I can do it! Memory Games. Age 3-4
Includes 47 exciting memory activities:
fun and engaging storylines
develops different types of memory
trains attention skills and diligence
increases vocabulary and develops speech
47 reusable stickers
convenient format and open flat spiral binding
This activity book is printed on carefully chosen thick paper, making it easy for children to use.
ещё
I can do it! Memory Games. Age 3-4
Matte coated paper
47 laminated stickers (1 page)
64 pages
Spiral binding
Weight: 370g
Size: A4
Written by Natalya Lyalina, Irina Lyalina, Evgenia Lazareva
Illustrated by Evgenia Salikhova, Marina Naumova, Anastasia Gileva
Translated into English by Maria Sindeyeva, Elena O'Neal
Edited by Nadia Stulock, Lucinda Hawksley
Proofread by Manda Waller
ещё
I can do it! Memory Games. Age 3-4
«Отличные активити. Использую для занятий с ребёнком. Ребёнок англоговорящий, для неё лексика понятная, хотя встречаются новые интересные слова. Радует, что играя мы расширяем словарный запас. Отличный вариант для билингвов. Рекомендую»
«Интересно, надолго хватает»
«Любим эту серию на русском, теперь и на английском. Уровень языка должен быть достаточно хорошим, но можно переводить ребёнку.Подойдет и для детей 5 лет, потому что надо понимать задания на английском»
ещё
About the Activity Book
Memory training will help your child learn faster and more effectively. But for us the most important thing is for your child to have fun while they are learning!
Activities with a storyline
It's hard for a child to remember information if they don't understand why they need to. Our activities and stories make memory training fun! Remember where all the dangers are on a pirate's map. Memorise groceries and then buy them in the shop. Recall machine parts to set up the assembly line at the factory. By making each activity into a mini adventure, this book will keep your child interested and engaged.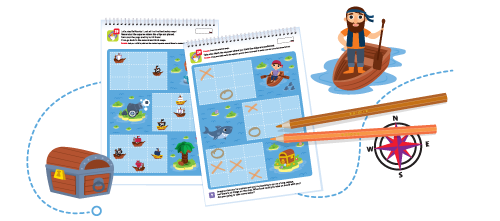 Develop memory
The activities will help your child to develop different kinds of memory:
Long-term memory tasks will ask your child to recall something that they already know. For example, what colour is a lemon? Or a strawberry?

Short-term memory tasks will ask your child to memorise some new information and then mark the details down from memory. For example, remember which continents a giraffe and a bison come from, and then on the next page place these animals in their correct locations.

Associative memory tasks. Associations help us to remember information more easily, but first we have to learn to think of them.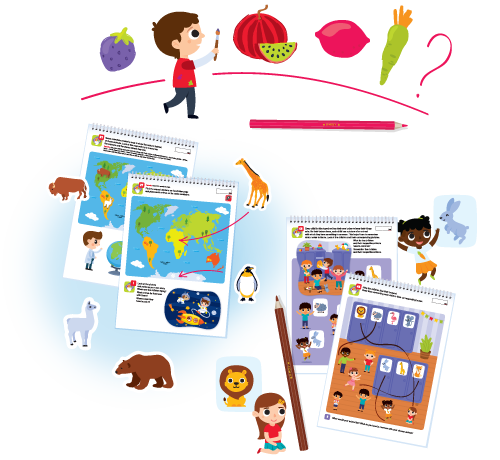 Train attention skills
Our activity book is full of fun games that will help your child become more attentive and improve their ability to concentrate on the task at hand. For example, we will look for mistakes, differences and hidden objects in pictures.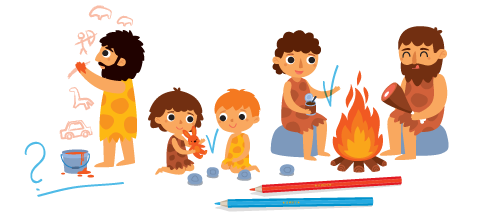 Lots of stickers
Not only do stickers keep things interesting, but they also help with memory development. For example, we will ask your child to look at a map of the city, and on the next page they will place the houses in their positions from memory.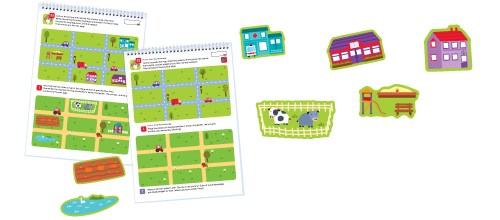 Interesting topics
Talk to your child about the Trojan War, cavemen, the animals of Africa... Your child will know when you are genuinely interested, and that is the best encouragement for them to broaden their horizons and be inquisitive!

Spiral binding
We have carefully designed the convenient spiral binding so that the book will open flat and will not bend or get in the way of activities. This is especially important for young children.

And at the end – a medal!
We want to thank our students for their efforts, so there's a little reward waiting for your child on the sticker page – a medal!

Useful Tips
Develop imagination
At the end of each activity you will find additional questions, such as: "Think about what you shouldn't put on the dinner table." You can come up with lots of different answers to this sort of non-standard question. Be sure to ask your child to justify their point of view. After your child has given their answer (and explained it), discuss other possible solutions together. By doing this, your child will learn to think creatively. If your child is at a loss and can't think of anything at all, offer to brainstorm together. Start talking and your child will join in.
What are other ways to develop memory?