I can do it! Tracing Skills. Age 3-4
Includes 63 tracing activities:
fun and engaging storylines
prepares little hands for writing
trains diligence and attentiveness
teaches shapes and numbers
develops fine motor skills
43 reusable stickers
convenient format and open flat spiral binding
The book is printed on carefully chosen thick, matte paper – the paper texture is a little rough, which is ideal for drawing beginners.
ещё
I can do it! Tracing Skills. Age 3-4
Offset paper
43 laminated stickers (1 page)
64 pages
Spiral binding
Weight: 300 g
Size: A4
Written by Natalya Lyalina, Irina Lyalina, Evgenia Lazareva
Illustrated by Evgenia Salikhova, Anastasia Gileva, Marina Naumova, Olga Utchenko
Translation into English by Elena O'Neal
Edited by Nadia Stulock, Lucinda Hawksley
Proofread by Manda Waller
ещё
I can do it! Tracing Skills. Age 3-4
Waiting for your reviews!
ещё
About the Activity Book
To prepare your little one's hand for writing, it is useful for them to draw lines on graphomotor paths. But not all young children have enough patience and diligence for that, so how do you encourage a child to want to practise?
Activities with a storyline
Simply drawing lines isn't fun. But hiking in the mountains, starting a fire and swimming in the sea with a dolphin are all fun and exciting activities!

Gradual increase in difficulty
At first, your child will draw straight lines, then they will move on to wavy and angular lines. We'll also study shapes and practise writing numbers. The width of the path gradually decreases, so by the end of the book your child will be drawing more precisely and accurately.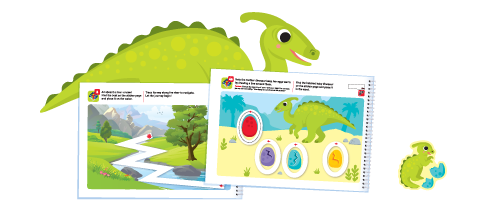 Lots of stickers
Why do we need stickers? We know how much children love stickers, and they really help to keep them interested and engaged in a project. There are 43 of them in this activity book, so there is no chance of them being bored! Our sturdy stickers can be removed and repositioned multiple times, and their careful placement also improves dexterity.

Interesting topics
Space, animals, fairy tales... This book introduces your child (and you!) to lots of new conversation topics. This is very important, because communication with parents and carers is the main factor in a child's development!

Spiral binding
We have carefully designed the convenient spiral binding so that the book will open flat and will not bend or get in the way of activities. This is especially important for young children.

And at the end – a medal!
Has your child completed the activity book? That's a big accomplishment! Encouragement is very important to children, so make sure you praise your child and stick a big medal from the sticker page onto their T-shirt or put it on the fridge for everyone to see!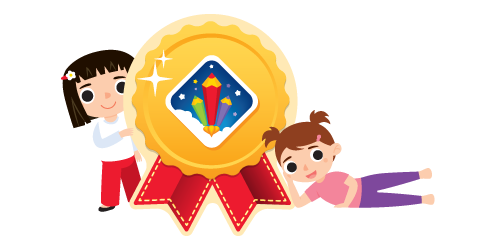 Useful Tips
Holding a pencil
The pencil should rest on the middle finger while the thumb and the index finger hold it in place. Your child should not grip the pencil too tightly.
The ring finger and the little finger may stay inside the palm or rest at the base of the thumb. If your child doesn't want to hold the pencil correctly, don't worry. They will definitely get used to it. From time to time, remind them to take hold of the pencil as shown. Explain that this will prevent their hand from getting tired.
Choosing the right pencil
If your child doesn't have much experience using pencils or crayons, we recommend choosing triangular-shaped writing utensils. This particular shape naturally enforces a proper grip.
Hexagonal or round crayons, or soft thick pencils, will suit more experienced children. Try different types of crayons and pencils to choose the one that is the best fit for your child.